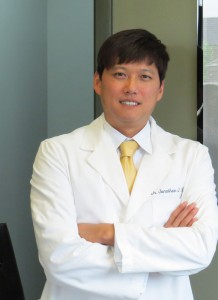 Jonathan J. Hwang, DMD
Dr. Jonathan Hwang graduated from Temple University School of Dentistry, earning his Doctor of Medicine in Dentistry in 2000. He is dedicated to continuing his education in all areas of dentistry and has completed additional training to be able to provide the best possible treatment, including attending the American Academy of Implant Dentistry (AAID) MaxiCourse for advanced implant training at Georgia Regents University. Dr. Hwang is a member in good standing with the AAID, and he is committed to continually providing each patient with the highest possible level of care. His goal is to help his patients smile with confidence and maintain a healthy lifestyle.
Dr. Hwang and his wife, Jenny, have a son named Timothy and a daughter named Kate. During his spare time, Dr. Hwang enjoys basketball, traveling, and spending time with his family.